The agents and staff at Roger Martin Properties recently enjoyed a morning exploring some of the best Houston has to offer. This purely social event was organized by Cynthia Candela and JoAnna Ide and included Ann and Roger Martin, Sachin Chowdhry, Vicki Chu, JoAnna Ide, Jane Jurgens, and Michelle Smith. We began with brunch at The Kitchen at the Dunlavy, an exquisite casual dining venue on Allen Parkway. This beautiful (and delicious!) restaurant has treetop views overlooking Buffalo Bayou. We were pleased that blue skies gave us the chance to dine on the outdoor deck.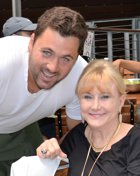 At the restaurant, JoAnna Ide reconnected with a former student from her days as principal at West University Elementary. Miles Durham graduated from Lamar High School in 2005.  He picked JoAnna out of the line at The Dunlavy, noting that her smile has not changed one bit since he was a second grader.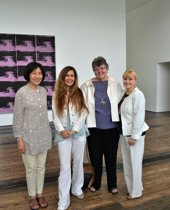 After brunch, we visited the Menil Collection. Cynthia particularly loved the surrealists, including Salvador Dali's hanging eggs and the wit of Rene Magritte's paintings. Ann was pleased to see the Max Ernst portrait of founder Dominique de Menil. Vicki visited with Tom Walsh, head of installations at The Menil. All of us were amused by the whimsical, bawdy works of William Copley.

And then it was back to the office and our daily real estate tasks.  "But I feel like I just had a mini-vacation!" said JoAnna.