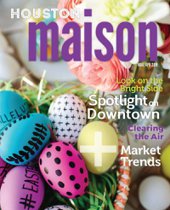 Ah Spring! Most of us are fond of this season. Finally the birds are chirping and our gardens beckon us to dig in and explore.
In this, our first issue of Houston Maison Magazine, we'll do just that - explore! Browse through to find art trends at every price range, discover plants that clear our air and look good while doing so, and spotlight spring activities near Downtown Houston. You'll also find market stats and my featured property rounding out this decor and lifestlye magazine.
To subscribe, contact me at roger@rogermartin.com.
And in the meantime… Welcome Spring!