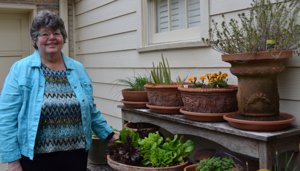 Ann Martin finds that the patience and watchfulness make her garden grow.  That and a lot of Texas ingenuity. "The sage and thyme don't like growing in Houston, so I mulch with limestone or marble chips so they think they are in the Hill Country," says Martin, VP of Roger Martin Properties. "The stone keeps the humidity down so they can make it through the summer."
She taken space on the edges of her driveway that an architect would most likely not use and brought in pots for basil, oregano, bird feeders, and marigolds to create an oasis of green that greets her every time she approaches home.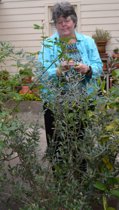 Martin has an olive tree that she and her husband Roger bought after a trip to Spain, a Meyer lemon tree that was a gift from a client and a far ranging selection of lettuces, kale and green onions that find their way to her dinner table nightly. A rich fuchsia bougainvillea blooms within a giant rosemary bush, one that Martin nurtured from a small holiday tree.
"The way the sun falls, it's been fun discovering microclimates within the garden. I move the pots around to determine where they are the happiest," Martin says.
A cedar picnic bench sits under a yellow teacup birdfeeder at the top of the drive.
"Old-fashioned roses edge the perimeter, because they are Roger's favorite flower and he loves their fragrance," she says. " I add more herbs each week," she says.
The garden is an extension of Martin's hunter/gatherer persona.  She shares everything she grows – with her church, with her breakfast club, with her family and friends.  If the shelves at the supermarket were suddenly wiped out, Martin would still find a way to provide. 
Marcus Cicero once said, "If you have a garden and a library, you have everything you need."  Martin agrees.