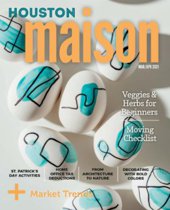 As we head into spring, I am aware that this spring and all that it symbolizes (re-birth, growth, new beginnings) is especially meaningful as we begin to make our way out of this global pandemic. I am filled with hope and renewed appreciation for this season and what awaits us on the other side.
In this issue we will take a look at modern architecture, investigate decorating with bold colors, plant an herb garden for beginners, and look forward to celebrating St. Patrick's Day. And if spring fever has you itching for a new home, check out our interactive market stats.
Like this eZine? Please subscribe by contacting me at roger@rogermartin.com
Wishing you renewed hope and an abundance of bounty this spring season!
Roger Martin