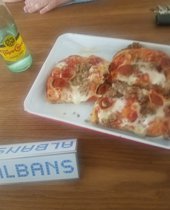 Thank you, Will - what a privilege to be included in the "friends and family" mock service for our new neighbors at Pizza Modus! Located in the building formerly known as the Edloe Deli, this new restaurant has been under construction all spring and summer. Based on this sample menu, this place is going to be a winner!
The restaurant hopes to replicate the success of the nearby Milk and Cookie bars, with a similar walk-up delivery window. And, in a clever nod to the West U location, the table delivery signs are all named after local streets. We were Albans.
This photo shows one of the (enormous) personal pan pizzas. The roman-style crust is thick and airy and not a bit greasy. The toppings are delicious, with many healthy options. But the appetizers. Ohhhhh, the appetizers: this was some of the best calimari ever. And the zucchini fries were out-of-this-world.
Looking forward to the full-blown opening on August 10, 2018! Good luck, neighbor!
Pizza Modus can be found at 6119 Edloe St (between University and Rice), West University Place, TX 77005, 832-767-3450. Their website (currently under development, will be at pizzamodus.com.