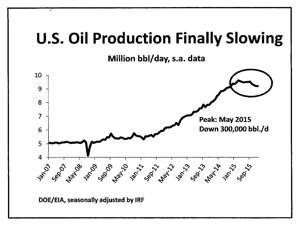 The recent state-of-the-Houston-economy lecture was both sobering and illuminating. Here is list of talking points from this lecture by Bill Gilmer, economist for the Institute of Regional Forecasting.  
In 2015, we saw the most abrupt oil business reversal in history - but so far, the Houston economy has managed to avoid an out-and-out recession. Our economy is currently protected by downstream construction jobs, as new petrochemical plants are built to take advantage of the now-inexpensive feed stocks. However, this construction will wind down in 2017, giving us a narrow time window to shore up our economy.
On the international front, emerging markets have been the key drivers of global growth. China is currently stalling out, while India is picking up the slack.
For long-term recovery (both political and economic) oil prices need to stabilize in the $60 to $65 dollar per barrel range. The Saudis have put the "swing producer" role squarely on the US oil shale industry.  In response, US production has peaked and is slowing - but not as quickly as anticipated (see graph). Over-production is still putting downward pressure on prices.
With regard to real estate, existing home sales have been flat since 2012.  Within this overall picture, however, there are localized exceptions. Ship Channel cities such as Baytown and Channelview are still seeing strong sales, low inventories, and price appreciation. Meanwhile, sales are sagging and inventory is growing in "oily" neighborhoods like Memorial, the Energy Corridor and the Woodlands.  Houston is also losing our affordability edge relative to the rest of the country.
With regard to construction, residential home builders have spent the last several years putting up executive mega-mansions. Demand, however, has now shifted into average homes, with a lack of inventory in the middle market.  Apartment complexes and commercial lease space are both overbuilt, with declining occupancy rates.  Retail, however, has been "right-sized" throughout this economic cycle.
Many thanks to the Bauer School of Business, University of Houston, for hosting this excellent analysis of Houston's economy. And if you are wondering how your own home is faring in this challenging economy, click here for an instant property valuation.