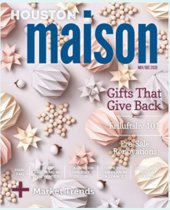 It's hard to know where to begin with the feels this holiday season. I choose to look on the bright side and have rediscovered all that I have to be grateful for these challenging days. So much to be grateful for - friends, family, health. Realizing that others may not be so fortunate and doing my best to help where I can.
In this issue, we will discuss the Norwegian concepts of "hygge" and "friluftsliv"; how to use color in your holiday decor; and how to find gifts that give back. My hope is that during these trying times this magazine may provide a welcome diversion (and some ideas) to shed just a bit of light, a little holiday joy and happiness.
If you like this eZine, please subscribe by contacting me at roger@rogermartin.com.
Here's wishing you and yours an introspective, hopeful holiday and the best new year!
Roger Martin