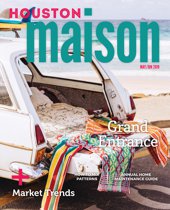 As the days get longer you might find yourself itching to fill those hours with productivity, the kind that will pay off in the long run - such as property upkeep. I know that I like to take stock of lingering items this time each year. But where to start?
In this issue of Houston Maison Magazine we provide the ultimate road map to annual home maintenance - complete with a printable calendar. But it's not all business - we'll also touch on decor such as mixing patterns and prints & entryway how to - and of course market stats.
To subscribe, please contact me at roger@rogermartin.com.
And in the meantime… make those Grand Entrances!