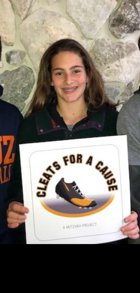 This is just the excuse you need to clean your closets and garages!
Mickie May, age 13, has established "Cleats for a Cause" as her Mitzvah project. She is collecting gently-used (or new) cleats to donate to All Nations Sports Academy (ANSA). ANSA works in disadvantaged communities to transform and empower youth and their families through free sports programs. They can use cleated shoes for any sport and in any size, color, or gender.
If you want to drop off some cleats, look for the bright yellow bin at Roger Martin Properties, 6115 Edloe (on the square in downtown West University Place). St. John's and The Shlenker School also have collection bins as well.
Well done, Mickie May – this is a great project!