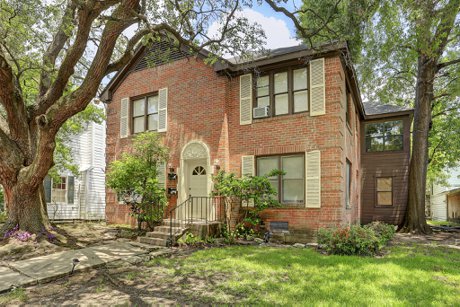 2308 McClendon Street Unit #2 is a two bedroom, one full bathroom apartment unit located in the Windermere neighborhood near Rice University and the Texas Medical Center. Taking up the second floor of a duplex, this apartment features hardwood floors and new blindes throughout the unit. Move-in ready!
Property Information
Bedrooms: 2
Bathrooms: 1 Full
Listed by Roger Martin
MLS # 36298120
Features
Second floor unit of a duplex.
Fresh paint, new window blinds and hardwood floors throughout the unit.
Large living room with a mock fireplace.
Good natural lighting thanks to numerous large windows.
Kitchen with gas stove and range, microwave, and dishwasher.
Spacious front bedroom. Rear bedroom has door leading to enclosed porch with deck access.
Washer and dryer provided.
Full bathroom with tub shower.
Current furniture can stay with unit if requested.
Access to large yard, private upstairs back deck
Zoned to Roberts Elementary School, Pershing Middle School, and Lamar High School. Please check availability.