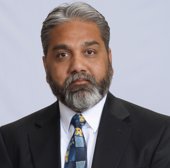 Roger Martin Properties is pleased to welcome Sachin Chowdry to our increasingly-international team.  "We are seeing growth in our international client base, and we are pleased to have an agent with experience in relocating clients from overseas," says Roger Martin, President of Roger Martin Properties. "Sachin brings an international business perspective."
Sachin Chowdry was born in Bhilai, India. After obtaining degrees in business and commerce in New Delhi, Sachin graduated from the Institute of Chartered Accountants of India.
Sachin was responsible for exploring and developing new global markets for Filte SPA, an internationally respected Italian fabric manufacturer. As Director of Marketing and Sales, Sachin traveled throughout Europe, Southeast Asia, India, Sri Lanka, Bangladesh, and the Middle East.
In 2001, an international trading firm relocated Sachin and his wife Daisy, a respected artist, to Houston, where he bought his first home in the City of West University Place.  His children graduated from West U Elementary, Lanier and Lamar so he is familiar with some of the best schools in the Houston Independent School District.  His daughter Nivriti is in the Jesse H. Jones School of Business at Rice University, earning her Ph.D. in marketing.  Sachin's son is studying at the Ecole Hoteliere de Lausanne in Switzerland, founded in 1893 and one of the top hospitality education schools in the world.
As Sachin became immersed in the Houston business community, he opened his own financial and management firm for small businesses, restructuring at-risk companies facing bankruptcy and managing businesses during hostile takeovers and mergers.  He enjoys helping clients achieve their dreams.
Sachin began his real estate career as a property manager for a portfolio of 120 residential properties. He has since expanded from managing and leasing to real estate sales.
He already knows and understands the needs of the Houston community because he and his wife, Daisy, have owned the Monart School of Art in the Bellaire/West U area for nine years.  Monart offers open studio and private classes for students aged three and up.  At Monart, students can enroll for the term or by each class and access the studio to work on their personal artwork. Here, young artists develop their portfolios and strengthen specific skills in computer Illustration, animation, game design, and Sculptris, a great tool for creating characters and life-like models.